Pasta Primavera v.2. A hearty, veggie packed pasta dish that's perfect for serving year round! It has so much fresh flavor, it's a great way to use up those vegetables in the fridge, plus it's a bright and colorful dish so it helps get the kids to eat their vegetables. Pasta Primavera-this classic pasta dish is a wonderful mixture of colorful vegetables and a simple lemon Parmesan cream sauce.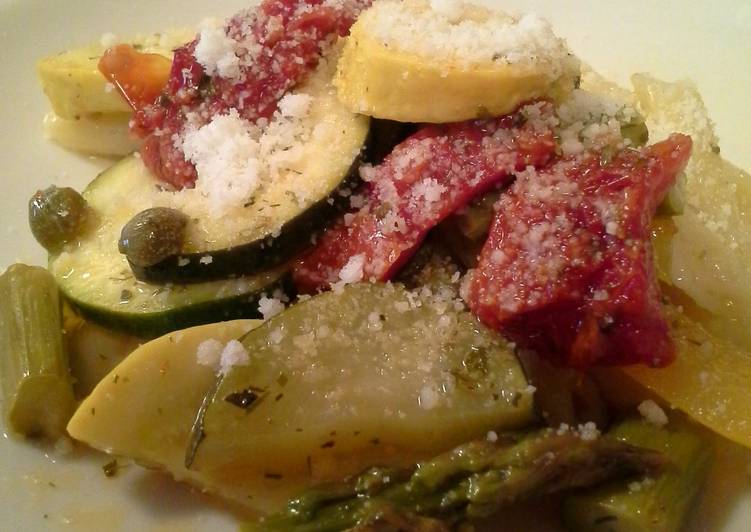 So, Pasta Primavera simply means "Spring Pasta." We love the Spring, when fresh vegetables are growing and plentiful, and dinners are light and satisfying. For whatever reason, my mother made her primavera with angel hair pasta, which is a gossamer version of spaghetti that cooks in seconds. Add pasta and cook as package directs; drain pasta and return to pot. You can cook Pasta Primavera v.2 using 16 ingredients and 5 steps. Here is how you cook that.
Ingredients of Pasta Primavera v.2
You need 2 tbsp of 2-3 Tblsp extra virgin LIGHT olive oil, see note.
You need 1 medium of summer squash - yellow.
It's 1 medium of Italian squash - green.
It's 1 medium of yellow or green pepper.
You need 7 each of asparagus spears.
It's 7 each of sun dried tomatoes.
It's 1/2 tsp of each parsley, dill, chives.
Prepare 1 pinch of red pepper flakes - or to your liking.
You need 1 pinch of oregano.
It's 1/4 cup of white wine.
You need 3 tsp of butter.
It's 1 1/2 tsp of capers w/vinegar (non pareil type/small).
It's 3 tbsp of fresh lemon juice.
It's 1 of pecorino/romano grated cheese.
It's 1 of Extra virgin olive oil.
Prepare 1/2 box of penne pasta, cooked al dente.
Meanwhile, heat oil in a large nonstick skillet. Add zucchini and yellow squash; cook. This Pasta Primavera looks delicious and tastes good, too. It's made with real zucchini, cauliflower, broccoli, red and yellow peppers with spiral macaroni in a creamy Parmesan cheese sauce.
Pasta Primavera v.2 step by step
While preparing vegetables set a pot of water to boil and cook mini penne about 6-7 minutes until al dente. By the time the pasta is cooked the vegetables will be ready. The dish cooks up fairly quickly..
Prep all vegetables. Wash, dry and slice both squash in half then into 1/4" slices. Wash dry asparagus spears - snap off ends then slice spears into 1" pieces. Slice sun dried tomatoes into 1/4" slices. There are two types of sun dried tomatoes-soft and hard. If you have hard dried tomatoes, reconstitute them by soaking them in hot water for about 15-20 minutes until they soften. Slice pepper into 1" slices then cut slices in half..
In a large saute pan over medium heat put in about 2-3 tablespoons (depending on the size of the pan) of extra virgin LIGHT olive oil, 1/2 of the butter and red pepper flakes. When oil is heated add peppers and tomatoes. Cook for 2 minutes. Add herbs stir and cook for a minute more..
Add squash and asparagus - stir to incorporate vegetables. Once veggies heat up add wine (in center of pan-don't stir) cook for about 1 minute. Add butter (allow it to melt) then add lemon juice, capers, and cover. Turn heat down to medium low and cook for about 2 minutes. Do not overcook squash. They shouldn't be soft. They should cook up al dente like pasta..
When pasta is cooked, drain, return to pot (not over heat), add a few drizzles of extra virgin olive oil and stir. Add enough oil to coat pasta not drown in oil. Add generous helping of cheese and stir. Pour veggies over cooked pasta and add another generous sprinkling of cheese..
Though this plant-based Pasta Primavera uses only a half-pound of pasta, it's so chockfull of vegetables that it makes quite a heaping helping. You can serve it any time of year, but it's an especially nice way to welcome spring, as its name implies. It's also a pleasing main dish at spring holiday or. Pasta primavera is a light and flavorful main dish chocked full of vegetables, and it is perfect for spring and summer. It makes a great meatless meal!