Spicy Brunch Lasagna.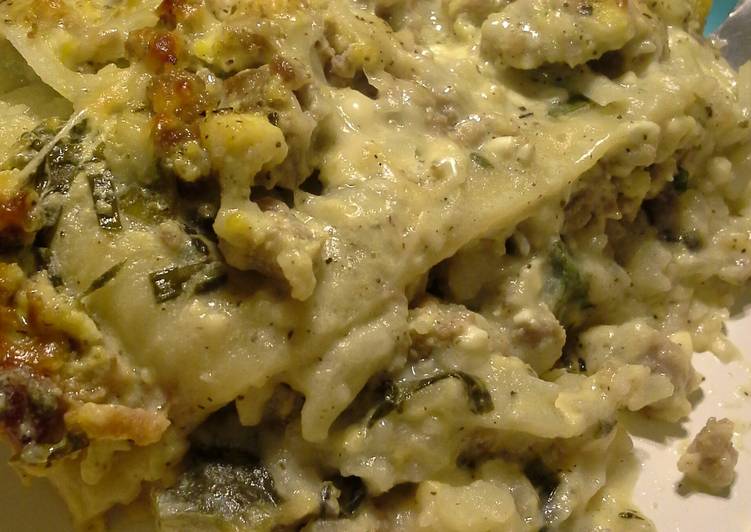 You can cook Spicy Brunch Lasagna using 14 ingredients and 6 steps. Here is how you cook it.
Ingredients of Spicy Brunch Lasagna
Prepare 1 1/2 lb of bulk Italian sausage.
It's 24 oz of cottage cheese.
It's 1/2 cup of chopped green onions.
It's 1/4 cup of snipped fresh chives.
It's 1 1/2 cup of finely chopped spinach.
Prepare 18 each of eggs.
It's 1/3 cup of milk.
Prepare 1/2 tsp of each salt & pepper.
It's 2 tbsp of butter.
You need 3 of jars (16oz) alfredo sauce.
Prepare 3 tbsp of dried Italian seasoning.
You need 8 of oven-ready lasagna noodles.
You need 4 cup of frozen shredded hash browns, thawed.
You need 3 cup of shredded mozzarella cheese.
Spicy Brunch Lasagna step by step
Preheat oven to 350 ° F..
In a large skillet, cook sausage until browned. Drain off fat; set aside..
Meanwhile, in a medium bowl, combine cottage cheese, chives, green onions, spinach, 1 tbsp Italian seasoning and 1 cup mozzarella; set aside..
In a very large bowl, whisk together eggs, milk, salt and pepper. In a large skillet, melt butter over medium heat; pour in egg mixture. Cook over medium heat, without stirring, until mixture begins to set on the bottom and around the edges. With a spatula or a large spoon, lift and fold the partially cooked egg mixture so that the uncooked portion flows underneath. Continue cooking over medium heat for 2 to 3 minutes or until egg mixture is cooked through, but is still glossy and moist. Immediately remove from heat. Stir in cooked sausage..
In a small bowl, combine the alfredo sauce and 2 tbsp Italian seasoning. Spread about 3/4 cup of the sauce mixture over the bottom of a 3-quart rectangular baking dish. Layer half of the lasagna noodles in the dish, overlapping as necessary. Top with 1/2 cup of the remaining sauce, half of the cottage cheese mixture, half the hash browns, half of the scrambled egg & sausage mixture. Sprinkle with 1 cup of the cheese. Repeat layers. Top with remaining sauce..
Cover dish with foil. Bake for 45 minutes. Remove foil and bake 15 minutes more or until heated through. Let stand for 5 minutes before cutting into portions. Makes 16 servings..