Traditional Lasagna.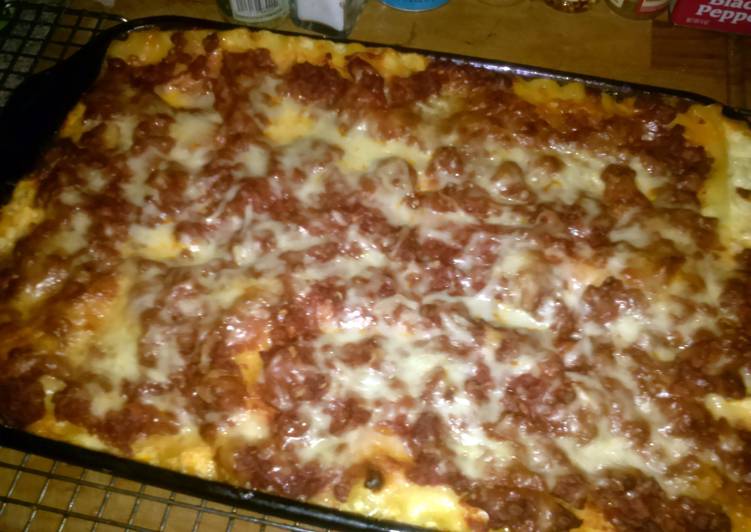 You can have Traditional Lasagna using 20 ingredients and 12 steps. Here is how you achieve it.
Ingredients of Traditional Lasagna
You need of Meat sauce.
You need 1 lb of ground beef.
Prepare 3/4 lb of bulk pork sausage (I used garlic bulk sausage).
You need 3 can of tomato sauce (8 oz EACH).
Prepare 3 can of tomato paste (6oz EACH).
It's 2 clove of garlic, minced.
You need 2 tsp of sugar.
It's 1 tsp of salt.
You need 1 tsp of Italian seasoning.
You need 1/2 tsp of pepper.
It's of Cheese mixture.
Prepare 3 of eggs.
You need 3 tbsp of minced fresh parsley (I used 1 tbl spoon dried).
It's 3 cup of small-curd cottage cheese/ 24 oz. (This is where I changed it up a bit, I used 16 oz of cottage cheese, and 15 oz of ricotta.).
Prepare 1 packages of ricotta cheese / 8oz. (As stated above, I used 15 oz of ricotta).
It's 1/2 cup of grated parmesan cheese.
You need of Layers.
Prepare 9 of Lasagna noodles, cooked and drained (I always make a few extra, just in case some break while cooking).
Prepare 6 slice of provolone cheese.
It's 3 cup of shredded mozzarella cheese.
Traditional Lasagna instructions
In a large skillet, cook beef and pork over medium heat until no longer pink, drain..
Boil salted water, add noodles, cook till aldente, turn off heat, keep in pot until assembling.
Add tomato sauce, tomato paste, garlic, sugar, salt, Italian seasoning, and pepper. Bring to a boil..
Reduce heat, simmer, uncovered for 1 hour, stirring occasionally. (This thickened up for me in no more then 30 minutes, so be sure to watch it! ).
Now preheat oven to 375°F.
In a large bowl, combine eggs, parsley, cottage cheese, ricotta cheese and parmesan cheese..
Spread 1 cup of meat sauce in an UNgreased 13x9x2 inch baking dish..
Layer with 3 noodles, provolone cheese, 2 cups of cheese mixture, 1 cup of shredded mozzarella cheese..
Layer 3 noodles, 2 cups of meat sauce, remaining cheese mixture, and 1 cup mozzarella cheese..
Top with the 3 remaining noodles, meat sauce, and mozzarella cheese. (Dish will be full!).
Cover with tin foil (I lightly spray the "touching side" with Pam so the cheese doesn't stick to the foil when removed).
Bake at 375°F for 50 minutes. Uncover, and bake 20 minutes longer, or until heated through. Let stand for 15 minutes (I always wait about 30 minutes, just to insure all the layers won't spill out when cut).