Classic Lasagna.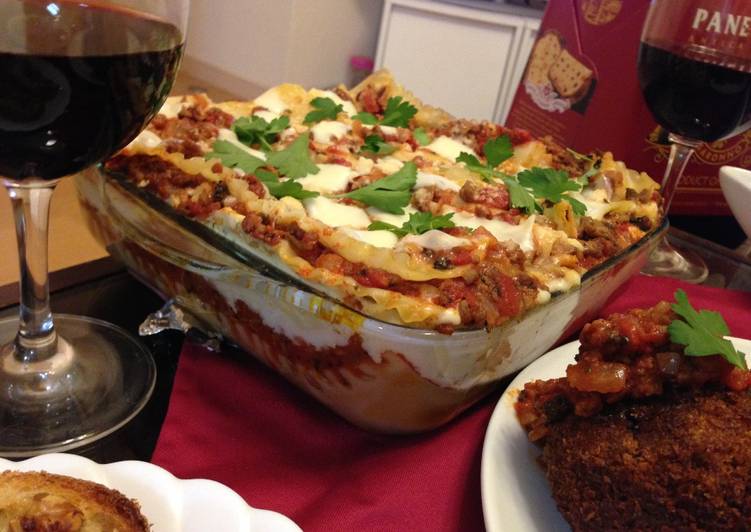 You can cook Classic Lasagna using 18 ingredients and 11 steps. Here is how you cook that.
Ingredients of Classic Lasagna
It's 10 sheets of No-boil Lasagna Noodles.
It's 250 g of Ricotta Cheese.
Prepare 3 heads of Fresh Parsely.
It's 1 of Raw egg.
You need 500 g of Ground Beef/Pork.
Prepare 1 tsp of Fennel Seeds.
It's 3 cans of Whole Tomatoes.
It's 6 cloves of Garlic.
It's 1 pack of Fresh Basil.
Prepare 1 of Large Onion.
You need 2 tbsp of Dried Oregano.
You need 3 heads of Fresh Spinash.
Prepare 50 g of Bacon.
You need 100 g of Mozzarella.
It's 2 tbsp of Grated Parmigiano Cheese.
It's of Italian Parsely.
It's of Salt/Pepper.
It's of Olive Oil.
Classic Lasagna step by step
Cheese Layer: Finely cut the fresh basil. In large stainless bowl, mix basil, ricotta cheese, and egg. Set off to side for later..
Meat Sauce Layer 1: On medium heat in a large frying pan, add olive oil and grill ground meat, add fennel seeds and salt/pepper. After meat is completely browned, use spoon to remove any excess watery fat..
Meat Sauce Layer 2: In a separate frying pan on medium heat, add olive oil, canned tomatoes, & chopped onions, garlic, fresh basil, and oregano. Bring to a soft simmer..
Meat Sauce Layer 3: Add all of the meat into the tomato frying pan and simmer for another 5 min. then remove from heat and set off to the side. Don't wash the meat frying pan..
Spinach Layer: Add more olive oil to the meat frying pan and simmer the bacon. Once lightly browned, add in finely chopped spinach and heat until the spinach is soft..
Build it 1: In a glass baking pan, coat the bottom with olive oil and add 2 sheets of lasagna (3 sheets if you have a larger pan). Completely cover the sheets with a layer (1/3 of total) of meat sauce. Add 2 more sheets on top..
Build it 2: Completely cover with the ricotta cheese layer. Add 2 more sheets on top. Add another meat sauce layer and 2 more sheets..
Build it 3: Add the spinach layer, 2 sheets, then top off with the remainder of the meat sauce..
Top with mozzarella & parmigiano cheeses, cover in foil and bake at 250C for 30 min..
Remove from oven, garnish on top with fresh Italian parsley and serve!.
I made a recipe video that you can view on the Japanese site: https://cookpad.com/recipe/4945728.